HD-T03/T06
MANUALLY OPERATED DIRECTIONAL VALVE



This industrial hydraulic four-way valve is actuated manually with the hand-lever. It may be ordered as a 2-position or a 3-position valve. Other options include a spring-offset design, or spring-centered or detented.

The valve is available in two body sizes with ports either 3/8" NPT or 3/4" NPT.









Model Code -
top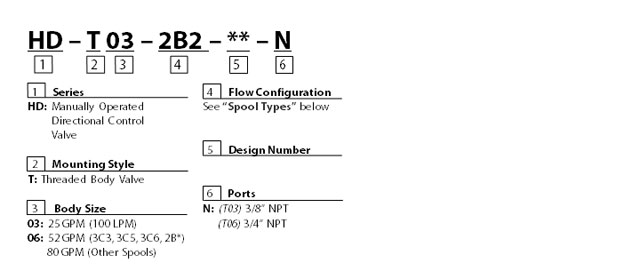 SPECIFICATIONS - top
MODEL CODE
MAX. FLOW
MAX. PRESSURE
LPM (GPM)
BAR (PSI)
HD-T03-*C*-10
100 (25)
207 (3000)
HD-T03-2D*-10
100 (25)
207 (3000)
HD-T03-2B*-10
100 (25)
207 (3000)
HD-T06-*C*-10
300 (80) / * 200 (52)
207 (3000)
HD-T06-2D*-10
300 (80)
207 (3000)
HD-T06-2B*-10
200 (52)
207 (3000)
* IS THE RATING FOR 3C3, 3C5, 3C6


SPOOL TYPES - top

HD Series
Manually-Operated Directional Control Valves



Valve Type
Spool
Symbol
4 Way
3 Position
Spring Centered


3C2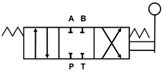 3C3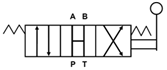 3C4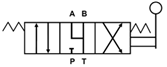 3C6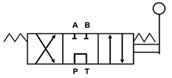 4-Way
2-Position
Spring Offset

2B2
Closed
Crossover


2B3
Open
Crossover

4 Way
3 Position

Detent


3D2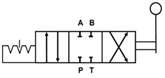 3D
3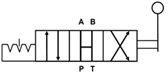 3D
4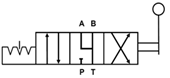 3D
6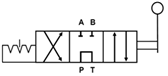 4 Way
2 Position
Detent
2D2
Closed
Crossover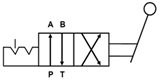 2D3
Open
Crossover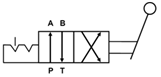 HD-T03 PRESSURE DROP CURVES
- top

TEST FLUID VISCOSITY : 35 cSt (175 SSU) TEST TEMPERATURE: 50C(122F)

HD-T03 PERFORMANCE CHART

SPOOL
PRESSURE

DROP LINE
NUMBER
TYPE
P-A

B-T
P-B
A-T
P-T
C2
4
5
4
5
-
C3
6
6
6
6
6
C4
4
7
4
7
-
C40
4
5
4
5
-
C 5
6
5
4
6
2
C6
5
5
5
5
1
C60
5
5
5
5
1

HD-T06 PRESSURE DROP CURVES


TEST FLUID VISCOSITY : 35 cSt (175 SSU) TEST TEMPERATURE: 50C(122F)

HD-T06 PERFORMANCE CHART

SPOOL
PRESSURE

DROP LINE

NUMBER
TYPE
P-A

B-T
P-B
A-T
P-T
C2
2
2
2
2
-
C3
3
2
3
2
2
C4
2
3
2
2
-
C40
2
2
2
2
-
C5
3
2
2
2
-
C6
3
2
3
2
1
C60
3
2
3
2
1

| | |
| --- | --- |
| Dimensions - top | UNIT: mm(inch) |


HD-T03/06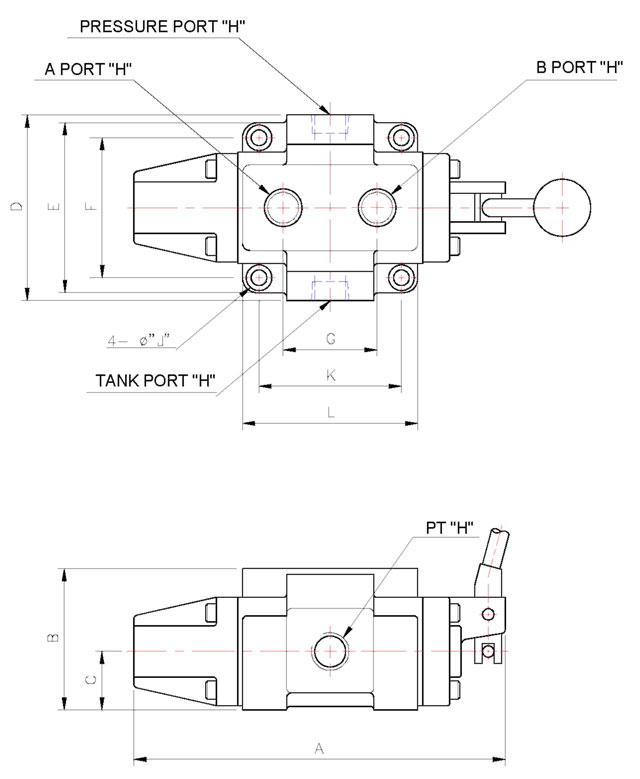 MODEL
A
B
C
D
E
F
G
H
J
K
L
WEIGHT
KGS
LBS
HD-T03 SERIES
174 (6.85)
82 (3.23)
39 (1.53)
74 (2.91)
68 (2.68)
50 (1.96)
33 (1.30)
M10 (3/8")
68 (0.27)
58 (2.29)
92 (3.62)
4.0
8.9
HD-T06 SERIES
258 (10.16)
99 (3.90)
41 (1.61)
130 (5.12)
120 (4.72)
98 (3.86)
66 (2.60)
M19 (3/4")
11 (0.43)
100 (3.94)
125 (4.92)
11.5
25.8