Single Fixed Displacement

45VQ


The Northman 45VQ Series pump is a fixed displacement, hydraulic balanced vane pump. This high performance intravane pump features the 10 vane design for the high pressure and speed requirements of mobile applications. The available flow ratings for the 45VQ series are from 42 GPM to 60 GPM at 1200 RPM. Viton seals are standard. Standard rotation is right-hand (clockwise), with left-hand rotation (counterclockwise) available ("L" option). The flange mounting is the SAE "C" two-bolt standard. The outlet port may be oriented in any one of four positions.
Symbol


Model Code -
top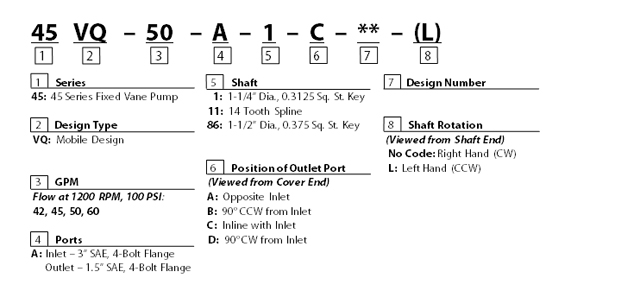 Performance Curves - top
45VQ Single Pump

SAE 10W Fluid at 120°F.
Pump Inlet at 0° hg.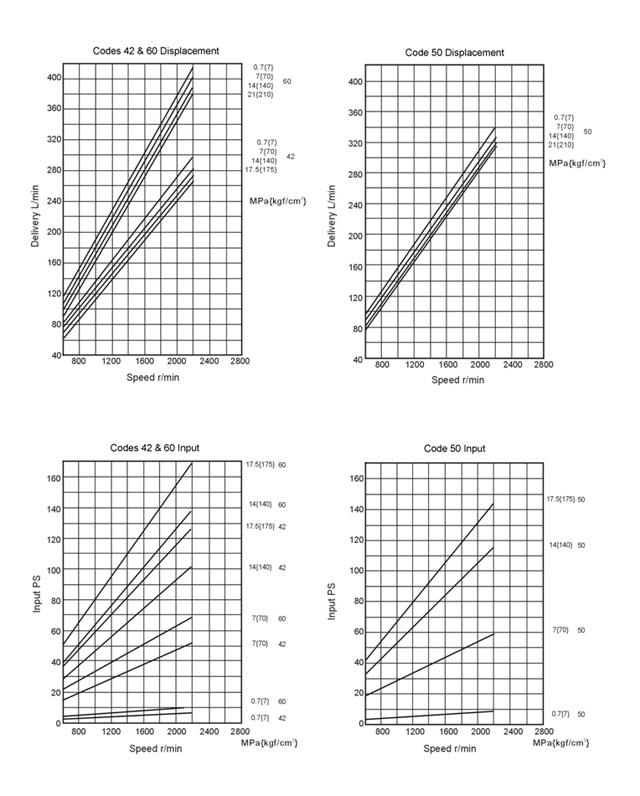 Specifications - top
Based on Petroleum Oil: 120°F (49°C), Viscosity 150 SUS at 100°F (38°C), 0 Inlet PSI

Model

Flow Code

GPM @ 1200 RPM

& 100 PSI

Displacement

in³/r (cm³/r)

Max. Speed

RPM

Max. Pressure

PSI (BAR)

Weight

Lbs (Kg)

45VQ

42

8.18 (134)

2400

2500 (172)

75.2 (34.1)

45

8.97 (147)

2200

50

9.52 (156)

60

11.53 (189)


Dimensions - top
45VQ Single Pump
Dimensions in inches